Posted by
Jonathan Godwin
on Dec 21, 2018 in
1914-15 star
,
Battle of Britain
,
CAP BADGES
,
Caterpillar club badge
,
Commonwealth Forces
,
Falklands Medal
,
General Service Medal
,
Long Service and Good Conduct Medal
,
Medal Valuation Service
,
naval general service medal
,
New Zealand Medal
,
South Africa Medal
,
South Atlantic Medal
,
trafalgar medal
,
United Nations Medal
,
War Medal
,
waterloo medal
,
wellington medal
|
0 comments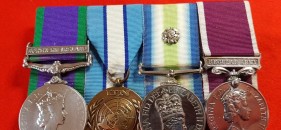 Season's Greetings, Merry Christmas and Happy New Year to all. We have had the privilege of buying a superb Falklands medal group to a very famous Regiment that was involved in one of the most harrowing episodes of the Conflict. Top money was paid with no quibbling. We have a deep respect for our servicemen and our military history. We have also had the pleasure of...