Medal Buying U.K.
Free Valuations!
Call us or Text To 07765 595662
 Attention! Please Complete The Form Provided
EMAIL jonathangodwinbuyer@gmail.com
 
Jonathan Godwin of Medal buyers is highly experienced in medal buying 

Jonathan prides himself on providing the correct market valuation almost instantly.
Medal buying and our offers/free valuations are undertaken and given by dedicated  professionals from our 24 hour live desk. We welcome and process enquiries from around the globe, offering a comprehensive and discreet medal buying service to all. Should you wish to contact us please complete the form provided . Or call our 24 hour live desk on 0044- 7765 595662 or email jonathangodwinbuyer@gmail.com
R.A.F. medal groups associated with "The Few" can command tens of thousands as investors clamber to obtain part of this now legendary time in history. To understand what determines our medal buying offers here are some pointers. Scarcity and "collectability" of the Unit or Rank. Circumstances of gallantry actions, unusual combinations of medals, and obscure campaigns add to desirability.
We are renown for paying good sums for gallantry medals. Our reputation and market position when medal buying is something we are constantly aware of. Only by researching medals which have been recently sold and paying the corresponding value are we assured of renewed business.

Dealer's medal buying
Our Medal buying process is straightforward and transparent. Our collectors and investment groups pay a little above retail prices for our provision of research and guaranteed accuracy of descriptions.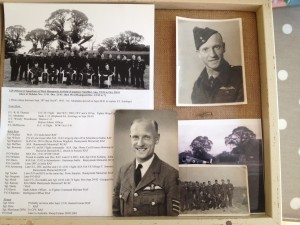 Caterpillar badge and photos to Sgt Wilson 129 sqn shot down on the channel dash
Investors no longer have to study medals. We make medal buying safe and easy. Those wishing to develop an investment portfolio can call and learn exactly what we have to offer. Our buying process is one which is of paramount importance.                                                                                  Family Medals of the Hayat Khan family. Direct from a descendant.  Important and Historical Medals. We are extremely proud of this recent purchase. With medal history relating to the man who carried the mortally wounded Brigadier John Nicholson (Nickel-Seyn) from the scene of the battle during the Indian Mutiny (Sepoy Rebellion) to the medals of his son who became the First Premier of the Punjab. To quote "one can feel the weight of history in these medals"               
We stress the that auctioneers offer little yet get away with day light robbery in many cases.  The internet provides the information required to establish the market value of just about anything. Take some time out and find the market value of your Militaria, when we are buying medals we do not expect to make 35%-40%, so why let auctioneers grab such sums of your money?

Once we have secured the purchase of a group of family medals research will be painstakingly conducted before suitable clients are notified..Now that your family medals are entering the collecting community the history and memory of the recipient and their service is guaranteed.
Frequently medal groups are split when houses are cleared and paperwork lost  For those of you who are still in a position to make choices it is worth considering the future fate of you family medals. With medalbuyers.com all medals purchased are destined to be cared for and appreciated.