Posted by
Jonathan Godwin
on Dec 21, 2018 in
1914-15 star
,
Battle of Britain
,
CAP BADGES
,
Caterpillar club badge
,
Commonwealth Forces
,
Falklands Medal
,
General Service Medal
,
Long Service and Good Conduct Medal
,
Medal Valuation Service
,
naval general service medal
,
New Zealand Medal
,
South Africa Medal
,
South Atlantic Medal
,
trafalgar medal
,
United Nations Medal
,
War Medal
,
waterloo medal
,
wellington medal
|
0 comments
Season's Greetings, Merry Christmas and Happy New Year to all.
We have had the privilege of buying a superb Falklands medal group to a very famous Regiment that was involved in one of the most harrowing episodes of the Conflict. Top money was paid with no quibbling. We have a deep respect for our servicemen and our military history.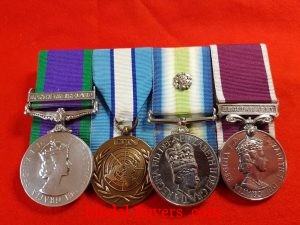 We have also had the pleasure of buying in the Great War medals of 2 brothers. These 2 groups are very special because the brothers fought in the same battalion of the same Regiment, The Worcestershire regiment.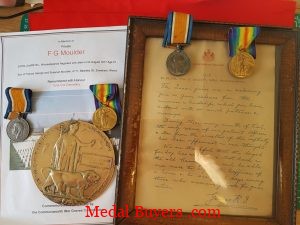 One brother was killed in action during the 1917 Battle of Ypres and the Actions in the Steenbeek. We have his medal pair and the Memorial Plaque.
The other brother was captured by the Germans and held Prisoner of War until the end of hostilities.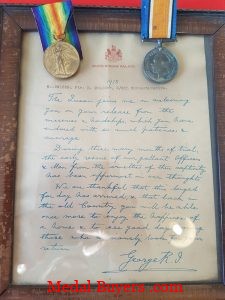 What is important about this pair of medals is the framed letter from Buckingham Palace.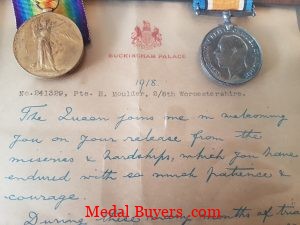 Horace was sent a letter by the King congratulating him on his release for his ordeal.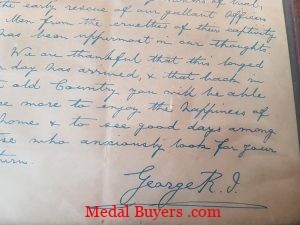 It is rare for such a letter to survive 100 years.
Call us today or email or use the on-line valuation form. We can finalise any deal very quickly and money could be in your account before Christmas.
07765 595662 and ask for Jonathan