Historic Medal Group
Double paid of the amount offered by a medal dealer.
No fuss, quick and straightforward transaction.
Call us on 07765 595662 or email jonathangodwinbuyer@gmail.com
Recently bought, the medals, papers and other ephemera to one of the 12 survivors of the sinking of this Royal Navy Cruiser.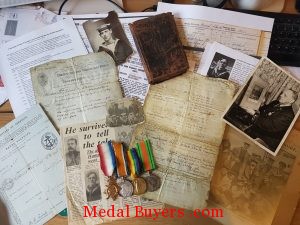 H.M.S. HAMPSHIRE was selected for a special mission after her participation in the Battle of Jutland.
On June 5th 1916 H.M.S. Hampshire had just started her important voyage to Russia taking Lord Kitchener and his entourage to meet with the Russian Tsar when she struck a mine and sank within 15 minutes taking all hands and the Military entourage totalling 737 men to their graves either within the ship or in the immediate aftermath, with only 12 sailors surviving. Her location was between Marwick Head and the Brough of Birsay.
We were delighted to buy this group and it is of note that we paid in excess of double that of a medal dealer's offer.
Call us on 07765 595662 or email jonathangodwinbuyer@gmail.com