Posted by
admin
on Jun 5, 2019 in
1914-15 star
,
Africa Star
,
Aircrew Europe star
,
arctic medal
,
baltic medal
,
Battle of Britain
,
battle of britain clasp
,
boultons medal
,
canada medal
,
Caterpillar club badge
,
china war medal
,
CLASPS
,
Collar Badges
,
Conspicuous Gallantry Medal
,
crimea medal
,
davisons medal
,
defence of lucknow medal
,
Distinguished Flying Cross
,
Distinguished Flying Medal
,
Distinguished Service Cross
,
Distinguished Service Medal
,
Distinguished Service Order
,
egypt 1801 medal
,
Falklands Medal
,
Formation Patches
,
Gallantry Medals
,
General Service Medal
,
George Medal
,
gold caterpillar club badges
,
Goldfish club
,
indian mutiny medal
,
italy star
,
Kings Police Medal for Gallantry
,
Life Saving Medals
,
liverpool shipwreck and humane society medal
,
Long Service and Good Conduct Medal
,
MBE
,
Medal of the order of the british empire
,
Medal Valuation Service
,
Medals
,
Military Cross
,
military general service medal
,
Military Medal
,
New Zealand Medal
,
order of st john medal
,
red cross medal
,
Royal Life Saving Society Medal
,
Shoulder Titles
,
South Africa Medal
,
South Atlantic Medal
,
Territorial Efficiency Medal
,
territorial medal
,
trafalgar medal
,
Uncategorized
,
United Nations Medal
,
US Presidential Citation
,
Victorian Campaign Medals
,
War Medal
,
waterloo medal
,
wellington medal
|
0 comments
Sell us your medals, get immediate payment, professional assistance and easy process. email us at jonathangodwinbuyer@gmail.com or call Jonathan at 0044 (0) 7765 595662
Or simply complete the proforma on the home page of this site.
We are extremely privileged to have met and bought the medal group of one of the Glorious Glosters who was taken Prisoner of War at Hill 235 (Gloster Hill) during The Battle of Imjin River 1951
The strength of this medal group and what sets it far apart from the others on the market are the personal papers and effects of this soldier who took part in the Epic British Stand at Imjin.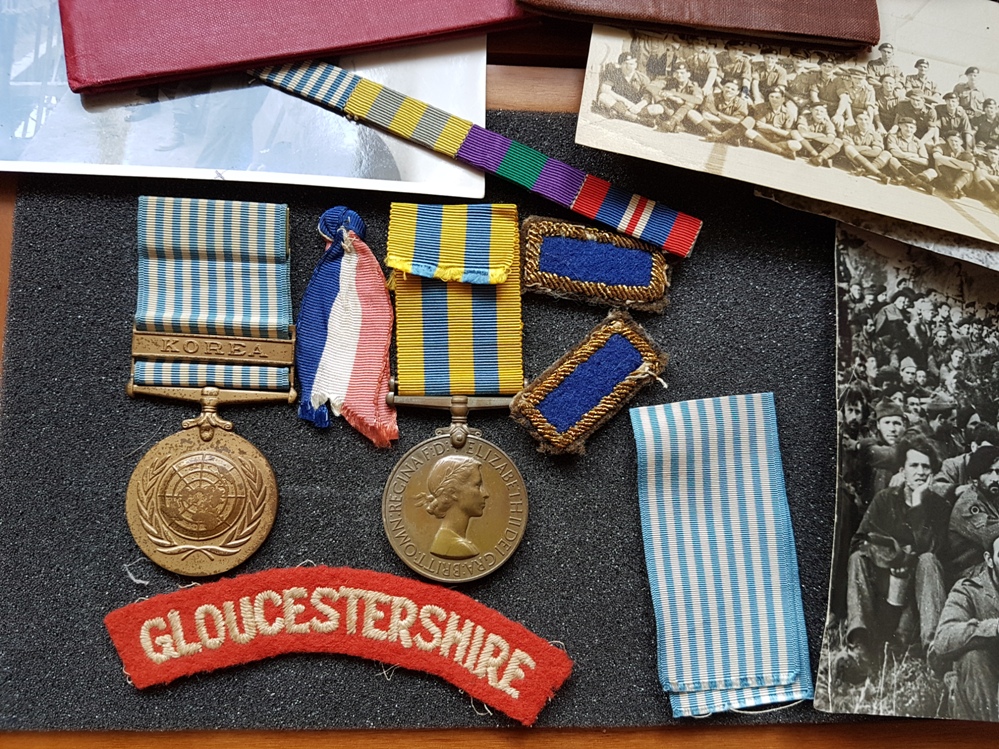 Glorious Glosters Imjin River POW Medal Group
This 1st Battalion, The Gloucestershire Regiment, Korea Medal, UN Korea Medal, US Presidential Citation group with original photographs and papers are brought, fresh to the market from the family of the recipient. This wonderful lot has been with the last member of the family in excess of 40 years. Private H. C. Bramley is a confirmed Prisoner of War as listed in book The Imjin Roll by Colonel E D Harding DSO.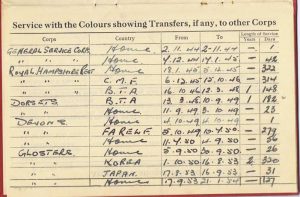 Private Charles (Henry Charles) Bramley served from November 1944 with various units (Hampshires, Dorsets, Devon) before joining the Glosters 5th September 1950. The details of which can be seen in his Certificate of Service book. Whilst with the Devons he served with FARELF (Far Eastern Land Forces) in Malaya for which he is entitled to the General Service Medal, Malaya clasp. Having transferred to the Glosters, his period in Korea is recorded from 1st October 1950 to 16th August 1953 with a brief period (1 month) in Japan prior to relocation to the UK.
A list of the items in this lot is as follows:
Korea Medal named to 14455371 PTE. H. C. BRAMLEY. GLOSTERS. , UN Korea Medal, unnamed as issued, 2 x cloth and bullion Presidential Citations with tricolour ribbon streamer knot.
Along with – Regular Army Certificate of Service booklet, Soldier's Paybook, photograph (Bramley identified) with MALAYA 1950 written on the reverse, photograph (Bramley identified with biro mark on his arm – seated second from left) with the note written on the reverse All my love Charlie. H.M.T. WINDRUSH. 19-10-50 1st GLOSTER REGT. 9 Pln C Coy Going out to Korea TROOP SHIP",
2 press photographs (Bramley identified in Prisoner of War group). His Baptism Certificate, Shoulder Title, his ribbon bar (Korea Medal ribbon, UN Korea Medal ribbon, G.S.M. Malaya ribbon and WW2 War Medal ribbon.
And a typed record of The Battle of The Imjin River – The Story of The 1st Battalion, 22nd to 25th April 1951 (the account of the gallant action at Choksong and Hill 235 from a letter from Lt Col Digby Grist, a fuller account by Major N S Watkin-Williams both dated 29th April and various newspaper reports.). The final page is titled HIGHEST U.S. MILITARY HONOUR FOR 1ST BATTALION. It is a description of the United States President's Distinguished Unit Citation and the ceremonial parade.
He served throughout the Gloster's Korean War in C Company, as per the annotated photograph, with whom he sailed to Korea. The campaign and the incarceration of the Prisoners of War are thoroughly well documented.
He is confirmed as having been taken prisoner of war during the Glosters epic stand at the Battle of Imjin River between 22nd to 25th April 1951.
Call us on 07765 595662
email: jonathangodwinbuyer@gmail.com
Fill in the Home Page Proforma