Drk Dagger

£650 = $1000 Paid

S.A. Grip Button

 

E.K. Spang

£250= $400 paid

 

Dove head sword

$400/£300 paid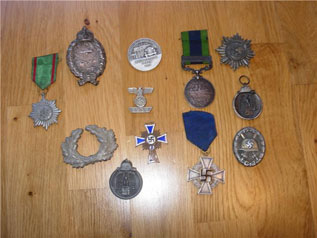 $1150/£750 paid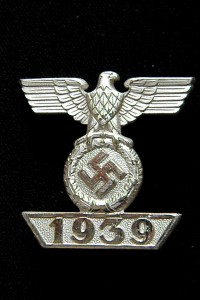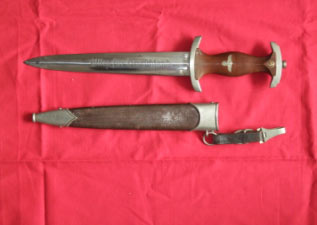 A fine example £750 / $1150 Paid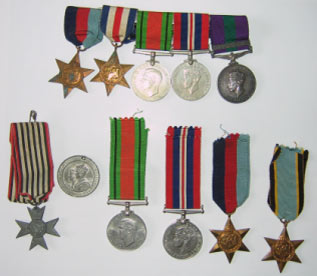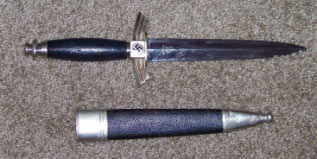 Flyers knife £600/$950 Paid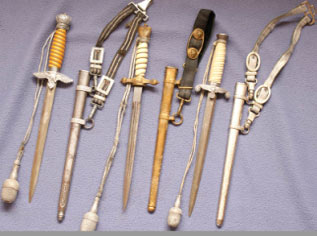 Common daggers in Good Order $850 /£500 each paid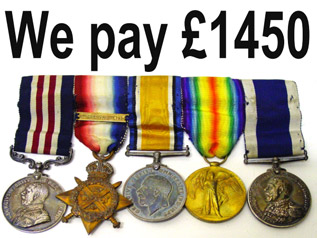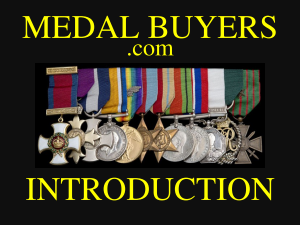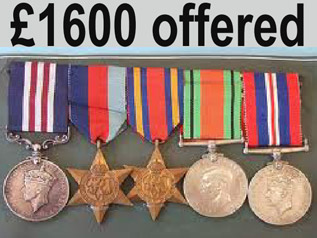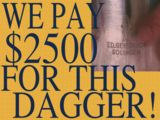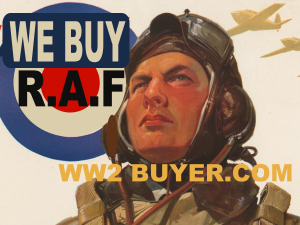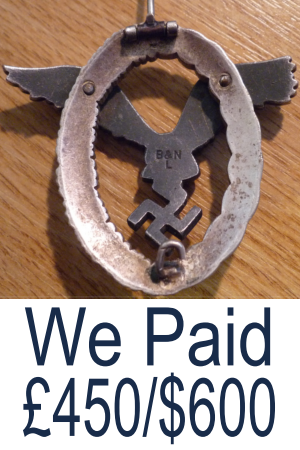 Sites of Interest to Researchers
Medals awarded to c1st King's Dragoon Guards cap badge value/price
Medals awarded to 2nd Dragoon Guards (Queen's Bays) cap badge value/price
Medals awarded to 3rd (Prince of Wales's) Dragoon Guards cap badge value/price
Medals awarded to 4th Royal Irish Dragoon Guards cap badge value/price
Medals awarded to 5th (Princess Charlotte of Wales's) Dragoon Guards cap badge value/price
Medals awarded to Carabiniers (6th Dragoon Guards) cap badge value/price
Medals awarded to  7th (The Princess Royal's) Dragoon Guards cap badge value/price
Medals awarded to Light Cavalry cap badge value/price
Medals awarded to 1st Royal Dragoons cap badge value/price
Medals awarded to 2nd Dragoons (Royal Scots Greys) cap badge value/price
Medals awarded to 3rd The King's Own Hussars cap badge value/price
Medals awarded to 4th Queen's Own Hussars cap badge value/price
Medals awarded to 5th Royal Irish Lancers cap badge value/price
Medals awarded to 6th (Inniskilling) Dragoons cap badge value/price
Medals awarded to  7th Queen's Own Hussars cap badge value/price
Medals awarded to 8th King's Royal Irish Hussars cap badge value/price
Medals awarded to 9th Queen's Royal Lancers cap badge value/price
Medals awarded to 10th Royal Hussars (Prince of Wales's Own) cap badge value/price
Medals awarded to 11th Hussars (Prince Albert's Own) cap badge value/price
Medals awarded to 12th (Prince of Wales's Royal) Lancers cap badge value/price
Medals awarded to 13th Hussars cap badge value/price
Medals awarded to 14th King's Hussars cap badge value/price
Medals awarded to 15th The King's Hussars cap badge value/price
Medals awarded to 16th The Queen's Lancers cap badge value/price
17th Lancers (Duke of Cambridge's Own) cap badge value/price
Medals awarded to 18th Hussars cap badge value/price
Medals awarded to 19th Hussars cap badge value/price
Medals awarded to 20th Hussars cap badge value/price
Medals awarded to 21st Hussars cap badge value/price
Support Arms
Medals awarded to Royal Regiment of Artillery cap badge value/price
Medals awarded to  Corps of Royal Engineers cap badge value/price
Medals awarded to Royal Horse Artillery cap badge value/price
Medals awarded to Infantry cap badge value/price
Medals awarded to Foot Guards cap badge value/price
Medals awarded to Grenadier Guards cap badge value/price
Medals awarded to Coldstream Guards cap badge value/price
Medals awarded to Scots Guards cap badge value/price
Medals awarded to Line Infantry (In order of precedence) cap badge value/price
Medals to The Royal Scots (Lothian Regiment) cap badge value/price
Medals to 1st (The Royal) Regiment of Foot cap badge value/price
Medals to The Queen's (Royal West Surrey Regiment) cap badge value/price
Medals to 2nd (The Queen's Royal) Regiment of Foot cap badge value/price
Medals to The Buffs (East Kent Regiment) cap badge value/price
Medals to 3rd (The East Kent) Regiment of Foot cap badge value/price
Medals to The King's Own (Royal Lancaster Regiment) cap badge value/price
Medals to 4th (The King's Own Royal) Regiment of Foot cap badge value/price
The Northumberland Fusiliers cap badge value/price
Medals awarded to 5th Regiment of Foot (Northumberland Fusiliers) cap badge value/price
Medals awarded to  The Royal Warwickshire Regiment cap badge value/price
Medals awarded to 6th (Royal 1st Warwickshire) Regiment of Foot cap badge value/price
Medals awarded to The Royal Fusiliers (City of London Regiment) cap badge value/price
Medals awarded to 7th (Derbyshire) Regiment of Foot cap badge value/price
Medals awarded to The King's (Liverpool Regiment) cap badge value/price
Medals awarded to 8th (The King's) Regiment of Foot cap badge value/price
Medals awarded to The Norfolk Regiment – Royal title in 1935 as part of Silver Jubilee cap badge value/price
Medals awarded to 9th (The East Norfolk) Regiment of Foot cap badge value/price
Medals awarded to The Lincolnshire Regiment – gained Royal title in 1946 for WWII service cap badge value/price
Medals awarded to 10th (The North Lincolnshire) Regiment of Foot cap badge value/price
Medals awarded to  The Devonshire Regiment cap badge value/price
Medals awarded to 11th (The North Devonshire) Regiment of Foot cap badge value/price
Medals awarded to The Suffolk Regiment cap badge value/price
Medals awarded to 12th (The East Suffolk) Regiment of Foot cap badge value/price
Medals awarded to The Prince Albert's (Somersetshire Light Infantry) cap badge value/price
Medals awarded to 13th (1st Somersetshire)(Prince Albert's Light Infantry) Regiment of Foot cap badge value/price
Medals awarded to The Prince of Wales's Own (West Yorkshire Regiment) cap badge value/price
Medals awarded to 14th (Buckinghamshire, The Prince of Wales's Own) Regiment of Foot cap badge value/price
Medals awarded to  The East Yorkshire Regiment cap badge value/price
Medals awarded to 15th (The Yorkshire East Riding) Regiment of Foot cap badge value/price
Medals awarded to The Bedfordshire Regiment cap badge value/price
Medals awarded to 16th (The Bedfordshire) Regiment of Foot cap badge value/price
Medals awarded to The Leicestershire Regiment – gained Royal title in 1946 for WWII service cap badge value/price
Medals awarded to 17th (The Leicestershire) Regiment of Foot cap badge value/price
Medals awarded to The Royal Irish Regiment cap badge value/price
Medals awarded to 18th (The Royal Irish) Regiment of Foot cap badge value/price
Medals awarded to The Princess of Wales's Own (Yorkshire Regiment) cap badge value/price
Medals awarded to 19th (The 1st Yorkshire North Riding – Prince of Wales's Own) Regiment of Foot cap badge value/price
Medals awarded to The Lancashire Fusiliers cap badge value/price
Medals awarded to 20th (The East Devonshire) Regiment of Foot cap badge value/price
Medals awarded to The Royal Scots Fusiliers cap badge value/price
Medals awarded to 21st (Royal Scots Fusiliers) Regiment of Foot cap badge value/price
Medals awarded to The Cheshire Regiment cap badge value/price
Medals awarded to 22nd (The Cheshire) Regiment of Foot cap badge value/price
Medals awarded to The Royal Welsh Fusiliers – restored archaic spelling of Welsh (Welch) in 1921 cap badge value/price
Medals awarded to 23rd Regiment of Foot (Royal Welsh Fusiliers) cap badge value/price
Medals awarded to The South Wales Borderers cap badge value/price
Medals awarded to 24th (The 2nd Warwickshire) Regiment of Foot cap badge value/price
Medals awarded to The King's Own Borderers cap badge value/price
Medals awarded to 25th (The York) Regiment of Foot (King's Own Borderers) cap badge value/price
Medals awarded to The Cameronians (Scotch Rifles) cap badge value/price
Medals awarded to 26th (The Cameronians) Regiment of Foot cap badge value/price
Medals awarded to 90th Regiment of Foot (Perthshire Volunteers) (Light Infantry) cap badge value/price
Medals awarded to The Royal Inniskilling Fusiliers cap badge value/price
Medals awarded to 27th (Inniskilling) Regiment of Foot cap badge value/price
Medals awarded to 108th Regiment of Foot (Madras Infantry) cap badge value/price
Medals awarded to The Gloucestershire Regiment cap badge value/price
Medals awarded to 28th (North Gloucestershire) Regiment of Foot cap badge value/price
Medals awarded to61st (South Gloucestershire) Regiment of Foot cap badge value/price
Medals awarded to  The Worcestershire Regiment cap badge value/price
Medals awarded to 29th (Worcestershire) Regiment of Foot cap badge value/price
Medals awarded to 36th (Herefordshire) Regiment of Foot cap badge value/price
Medals awarded to The East Lancashire Regiment cap badge value/price
Medals awarded to 30th (Cambridgeshire) Regiment of Foot cap badge value/price
Medals awarded to 59th (2nd Nottinghamshire) Regiment of Foot cap badge value/price
Medals awarded to The East Surrey Regiment cap badge value/price
Medals awarded to31st (Huntingdonshire) Regiment of Foot cap badge value/price
Medals awarded to  70th (Surrey) Regiment of Foot cap badge value/price
Medals awarded to The Duke of Cornwall's Light Infantry cap badge value/price
Medals awarded to 32nd (Cornwall Light Infantry) Regiment of Foot cap badge value/price
Medals awarded to 46th (South Devonshire) Regiment of Foot cap badge value/price
Medals awarded to The Duke of Wellington's (West Riding Regiment) cap badge value/price
Medals awarded to 33rd (The Duke of Wellington's) Regiment of Foot cap badge value/price
Medals awarded to 76th Regiment of Foot cap badge value/price
Medals awarded toThe Border Regiment cap badge value/price
Medals awarded to  34th (Cumberland) Regiment of Foot cap badge value/price
Medals awarded to  55th (Westmorland) Regiment of Foot cap badge value/price
Medals awarded to The Royal Sussex Regiment cap badge value/price
Medals awarded to 35th (Royal Sussex) Regiment of Foot cap badge value/price
Medals awarded to 107th Regiment of Foot (Bengal Light Infantry) cap badge value/price
Medals awarded to The Hampshire Regiment – gained Royal title in 1946 for WWII service cap badge value/price
Medals awarded to 37th (North Hampshire) Regiment of Foot cap badge value/price
Medals awarded to  67th (South Hampshire) Regiment of Foot cap badge value/price
Medals awarded to The South Staffordshire Regiment cap badge value/price
Medals awarded to 38th (1st Staffordshire) Regiment of Foot cap badge value/price
Medals awarded to  80th (Staffordshire Volunteers) Regiment of Foot cap badge value/price
Medals awarded to  The Dorsetshire Regiment cap badge value/price
Medals awarded to 39th (Dorsetshire) Regiment of Foot cap badge value/price
Medals awarded to 54th (West Norfolk) Regiment of Foot cap badge value/price
Medals awarded to  The Prince of Wales's Volunteers (South Lancashire Regiment) cap badge value/price
Medals awarded to  40th (2nd Somersetshire) Regiment of Foot cap badge value/price
Medals awarded to 82nd (The Prince of Wales's Volunteers) Regiment of Foot cap badge value/price
Medals awarded to   The Welsh Regiment cap badge value/price
Medals awarded to 41st (The Welsh) Regiment of Foot cap badge value/price
Medals awarded to 69th (South Lincolnshire) Regiment of Foot cap badge value/price
Medals awarded to The Black Watch (Royal Highlanders) cap badge value/price
Medals awarded to 42nd (Royal Highland) Regiment of Foot, The Black Watch cap badge value/price
Medals awarded to 73rd (Perthshire) Regiment of Foot cap badge value/price
Medals awarded to The Oxfordshire Light Infantry cap badge value/price
Medals awarded to 43rd (Monmouthshire) Regiment of Footcap badge value/price
Medals awarded to 52nd (Oxfordshire) Regiment of Foot cap badge value/price
Medals awarded to The Essex Regiment cap badge value/price
Medals awarded to 44th (East Essex) Regiment of Foot cap badge value/price
Medals awarded to 56th (West Essex) Regiment of Foot cap badge value/price
Medals awarded to The Sherwood Foresters (Derbyshire Regiment) cap badge value/price
Medals awarded to 45th (Nottinghamshire) Regiment of Foot cap badge value/price
Medals awarded to 95th (Derbyshire) Regiment of Foot cap badge value/price
Medals awarded to The Loyal North Lancashire Regiment cap badge value/price
Medals awarded to 47th (The Lancashire) Regiment of Foot cap badge value/price
Medals awarded to 81st (Loyal Lincoln Volunteers) Regiment of Foot cap badge value/price
Medals awarded to The Northamptonshire Regiment cap badge value/price
Medals awarded to 48th (The Northamptonshire) Regiment of Foot cap badge value/price
Medals awarded to  58th (Rutlandshire) Regiment of Foot cap badge value/price
Medals awarded to Princess Charlotte of Wales's (Berkshire Regiment) cap badge value/price
Medals awarded to 49th (Princess Charlotte of Wales's) (Hertfordshire) Regiment of Foot cap badge value/price
Medals awarded to 66th (Berkshire) Regiment of Foot cap badge value/price
Medals awarded to The Queen's Own (Royal West Kent Regiment) cap badge value/price
Medals awarded to 50th (The Queen's Own) Regiment of Foot cap badge value/price
Medals awarded to 97th (The Earl of Ulster's) Regiment of Foot cap badge value/price
Medals awarded to The King's Own Light Infantry (South Yorkshire Regiment) cap badge value/price
Medals awarded to 51st Regiment of Foot (King's Own Light Infantry) cap badge value/price
Medals awarded to 105th Regiment of Foot (Madras Light Infantry) cap badge value/price
Medals awarded to  The King's Light Infantry (Shropshire Regiment) cap badge value/price
Medals awarded to 53(The Shropshire) Regiment of Foot cap badge value/price
85th (The King's Light Infantry) Regiment of Foot cap badge value/price
Medals awarded to The (Duke of Cambridge's Own) Middlesex Regiment cap badge value/price
57th (The West Middlesex) Regiment of Foot cap badge value/price
Medals awarded to 77th (The East Middlesex) Regiment of Foot cap badge value/price
The King's Royal Rifle Corps cap badge value/price
Medals awarded to 60th (The King's Royal Rifle Corps) Regiment of Foot cap badge value/price
Medals awarded toThe (Duke of Edinburgh's) Wiltshire Regiment cap badge value/price
62nd (Wiltshire) Regiment of Foot cap badge value/price
Medals awarded to 99th Duke of Edinburgh's (Lanarkshire) Regiment of Foot cap badge value/price
The Manchester Regiment cap badge value/price
Medals awarded to63rd (The West Suffolk) Regiment of Foot cap badge value/price
96th Regiment of Foot cap badge value/price
Medals awarded to The (Prince of Wales's) North Staffordshire Regiment cap badge value/price
64th (2nd Staffordshire) Regiment of Foot cap badge value/price
Medals awarded to 98th (The Prince of Wales's) Regiment of Foot cap badge value/price
The York and Lancaster Regiment cap badge value/price
Medals awarded to 65th (2nd Yorkshire, North Riding) Regiment of Foot cap badge value/price
84th (York and Lancaster) Regiment of Foot cap badge value/price
The Durham Light Infantry cap badge value/price
Medals awarded to 68th (Durham) Regiment of Foot (Light Infantry) cap badge value/price
106th Regiment of Foot (Bombay Light Infantry) cap badge value/price
The Highland Light Infantry cap badge value/price
Medals awarded to 71st (Highland) Regiment of Foot (Light Infantry) cap badge value/price
74th (Highland) Regiment of Foot cap badge value/price
Medals awarded to Seaforth Highlanders (Duke of Albany's/Ross-shire Buffs) cap badge value/price
72nd (Duke of Albany's Own Highlanders) Regiment of Foot cap badge value/price
Medals awarded to 78th (Highlanders) Regiment of Foot (The Ross-shire Buffs) cap badge value/price
Medals awarded to The Gordon Highlanders Valuation
75th (Stirlingshire) Regiment of Foot Valuation
Medals awarded to 92nd (Gordon Highlanders) Regiment of Foot Valuation
The Queen's Own Cameron Highlanders Valuation
Medals awarded to 79th (The Queen's Own Cameron Highlanders) Regiment of Foot Valuation
The Royal Irish Rifles Valuation
Medals awarded to 83rd (County of Dublin) Regiment of FootValuation
86th (Royal County Down) Regiment of Foot Valuatione
Medals awarded to Princess Victoria's (Royal Irish Fusiliers) Valuation
87th (Royal Irish Fusiliers) Regiment of Foot Valuation
Medals awarded to 89th (The Princess Victoria's) Regiment of Foot Valuation
The Connaught Rangers Valuation
Medals awarded to 88th Regiment of Foot (Connaught Rangers) Valuation
94th Regiment of Foot Valuation
Medals awarded to Princess Louise's (Sutherland and Argyll Highlanders) Valuation value/price
91st (Princess Louise's Argyllshire) Regiment of Foot Valuation value/price
Medals awarded to 93rd (Sutherland Highlanders) Regiment of Foot Valuation
The Prince of Wales's Leinster Regiment (Royal Canadians) Valuation
Medals awarded to 100th (Prince of Wales's Royal Canadians) Regiment of Foot cap badge value/price
109th Regiment of Foot (Bombay Infantry)cap badge value/price
Medals awarded to The Royal Munster Fusiliers cap badge value/price
Medals awarded to 101st Regiment of Foot (Royal Bengal Fusiliers) cap badge value/price
Medals awarded to 104th Regiment of Foot (Bengal Fusiliers) cap badge value/price
Medals awarded to The Royal Dublin Fusiliers cap badge value/price
Medals awarded to 102nd Regiment of Foot (Royal Madras Fusiliers) cap badge value/price
Medals awarded to 103rd Regiment of Foot (Royal Bombay Fusiliers) cap badge value/price
Medals awarded to  The Prince Consort's Own Rifle Brigade cap badge value/price
Medals awarded to 1st West India Regiment cap badge value/price
Medals awarded to 2nd West India Regiment cap badge value/price
Related Wanted WW2 Products
Chef des Generalstabes, Division, Durchbruckskampfe, Einheit Einmarsch.EisenbahnErsatz Eroberung
Evangelischer Kriegspfarrer Fahrtruppen FallschirmFallschrimjäger FeldFeldausbildungseinheit Feldgendarmerie Feldkommandantur, Feldlazarett FestungFl. Fla .Flak, Flieger Fliegerabwehr-Abteilung .
Fliegerabwehrkanone, Freiwillige, Fusilier, Granatwerfer, Gebirge, Gefecht, Gegenstoß
Geheime Feldpolizei, Geschütz, Grabenkrieg, Grenadier, Generalkommando, Generalstab des Heeres, Grenze, Grenzschutz Grenzschutz, Abschnitt Grenzewacht, Gruppe, Handelsmarine, Harko, Höherer Artillerie, Kommandeur, Heer, Heeresgruppe [, Hilfswillige, Himmelfahrts KommandoL, Hochgebirgs, Infanterie I, Jäger I.Jagd, Jagd-Kommando, Katholischer, Kriegspfarrer, Kavallerie Cavalry., Kosaken, Kettenkrad, Kompanie, [, Kommandeur, Kommando [, Korps, Korps, Abteilung,, Krad, (Kraft, Radfahrzeug), Kradschützen, Kriegesgefangen, Kriegsmarine, Kriegstagebuch, Kolonne, Küste, Landesschützen, Landwehr, Landsturm, Legion [plural Legionen], leicht, Luftlande, Luftwaffe, Marine, Maschinengewehr, Motorisiert Motorizied., Musketier, Nebel, Nachschub, Nachrichten, Nebelwerfer, Oberfeldkommandantur [, Oberbefehlshaber, Osttruppen, Pak, Panzerabwehrkanone, Panzerabwehr,, Panzergrenadier, Panzerjäger, Panzerzerstörer, Pionier, Radfahre, Regiment [plural, Ruckwartige
Ruckzug withdrawl., Ruckzugkampfe, Sanitäts, Schlacht, Schlachtschiffe, Schnellboot, Schutzstaffel L, Schwadron, Schwere, Sicherung, Sicherungseinheit, Sonderverband [., Stab [plural, Standarte [, Stellung, Stellungskampfe
Strassenbau.Sturm Assault., Sturm [plural, Sturmartillerie, Sturmbann [, Sturmgeschütz, Sturmpionier, Teile, Tote, Toten, Totenkopf, Totenkopfverbande
Umbenannt, Unterabschnitt [, Unterkunfts, Verfolgung, Verlegt, Vernichtet, ., Verteidigung, Veterinär, Volksgrenadier, Volkssturm, Vormarsch, Vormarschkampfe, Vormarschpfeil, Vorsto, Wach, Waffen, Waffen-S, Werwolf .Werfer.Wehrmachtsgefolge
Wirtschaft Administration., z.b.V. (, Zwischen
Medal Buyers.com pay cash for ALL War/Military items from All Wars and Conflicts. Uniforms-Helmets-Daggers-Armbands-Medals-Patches-Photos-Bags/Pouches-Equipment-Edged/ inert/Deactivated Weapons Accessories. All items wanted in any condition from any campain. World War I-World War II-Civil War-Revolutionary War-Spanish American War-Vietnam-Korea and More. Items wanted from the USA and European.
K98 Rifle
Deactivated
Bren Gun
Deactivated
PPS 43 SMG
Deactivated
G3 Assault Rifle
Spanish Percussion
Deactivated
Peabody Martini
1Deactivated
2 Bore DB Shotgun
Deactivated
Indian Matchlock
Deactivated
Madsen Model 1950
Deactivated
San Cristobal .30 Carbine
Deactivated
410 'Poachers' Shot Gun
Deactivated
Warnant 9mm Shotgun
Deactivated
Bolt Action 12s Shotgun
Deactivated
M1889 Schmidt-Rubin Rifle
Deactivated
9MM Walther MPK
Deactivated
CZ26 SMG
Deactivated
Yugoslav M56 SMG,
Deactivated
Mk 3 Sten Gun,
Deactivated
Cobra 9mm SMG
List Of SA (Brown Daggers) Makers & Values 2012
Blade Marked HACO Berlin" "Alles fur Deutschland" $600
"Pfeilringwerk" "Alles fur Deutschland" Valuation $700
"Hugo Lindner Deltawerk" "Alles fur Deutschland" Valuation $700
"F.Dick" "Alles fur Deutschland" Valuation $500
"Wagner und Lange" "Alles fur Deutschland" Valuation $600
" C.G.Haenel Suhl" "Alles fur Deutschland" Valuation $500
Aesculap, Tuttlingen "Alles fur Deutschland" Valuation $500
Peter Altenbach u. Söhne, Schwanenwerk, "Alles fur Deutschland" Ohlings Valuation $700
Argenta G.M.B.H. "Alles fur Deutschland" Valuation $600
Axt u. Hauerfabrik "Alles fur Deutschland" Valuation $600
Walter Bahrl, Höhscheid "Alles fur Deutschland" $750
Fritz Barthelmess, Bavaria, Muggendorf "Alles fur Deutschland" Valuation $700
A. u. H. Bassat, Ohligs "Alles fur Deutschland" Valuation $700
August Bickel, Steinbach, "Alles fur Deutschland" hallenberg Valuation $500
Bismarck "Alles fur Deutschland" Valuation $700
Eduard Becker, Kolumbuswerk "Alles fur Deutschland" Valuation $600
F.W. Beckmann G.M.B.H. "Alles fur Deutschland" Valuation $700
Carl Bender "Alles fur Deutschland" Valuation $600
Edmund Bergfeld u. Sohn, Ohligs "Alles fur Deutschland" Valuation $700
Gebr. Berns "Alles fur Deutschland" Valuation $700
Hugo Berns, HUBEO, Ohligs "Alles fur Deutschland" Valuation $700
Julius Bodenstein, Steinbach, Kr. M. "Alles fur Deutschland" Valuation $600
Gebr. Böhmenachel "Alles fur Deutschland" Valuation $700
Bönthgen u. Sabin, Fussball "Alles fur Deutschland" Valuation $700
Johan Breidor, Breidora, les 3 Croix "Alles fur Deutschland" Valuation $700
F. von Brosy, Steinberg "Alles fur Deutschland" Valuation $700
Otto Busch, Weltmeister "Alles fur Deutschland" Valuation $700
Clarfeld & Co., Hemer in Westfalen "Alles fur Deutschland" Valuation $700
Deppmeyer G.m.b.H., Besteckfabrik "Alles fur Deutschland" Valuation $700
Paul F. Dick, Esslingen A.N. "Alles fur Deutschland" Valuation $600
Ernst Dirlam, Höffnungswerk "Alles fur Deutschland" Valuation $700
J. Dirlam u. Söhne "Alles fur Deutschland" Valuation $700
Albert Dorschel "Alles fur Deutschland" Valuation $700
Eickelberg u. mack "Alles fur Deutschland" Valuation $700
Englert u. Solvie G.m.b.H. "Alles fur Deutschland" Valuation $700
C.F. ErnFernando Esser u. Cie
C. Eppstein Söhne "Alles fur Deutschland" Valuation $600
A. Feist u. Cie, Lunawerk "Alles fur Deutschland" Valuation $700
Josef Feist, OMEGA "Alles fur Deutschland" Valuation $700
Flocke u. Cie "Alles fur Deutschland" Valuation $700
Giesen u. Forsthoff "Alles fur Deutschland" Valuation $700
Grah und Deppmeyer, GRADE "Alles fur Deutschland" Valuation $700
Carl Grah, Stahlwaren, Ohligs "Alles fur Deutschland" Valuation $700
Ernst Crah "Alles fur Deutschland" Valuation $700
Gebr. Grah, Odysseus Werk AG "Alles fur Deutschland" Valuation $700
Ludwig Groten, Lanze u. Fahne "Alles fur Deutschland" Valuation $700
Carl Haas, Solingen-Wald "Alles fur Deutschland" Valuation $700
Hackländer u. Bick, HABIWA "Alles fur Deutschland" Valuation $700
H. Hauptner, Berlin "Alles fur Deutschland" Valuation $700
Herder u. Sohn, Diogenes, Ohligs "Alles fur Deutschland" Valuation $700
Friedrich Herkenrath, Ben Hur, Merscheid "Alles fur Deutschland" Valuation $700
Emil Hermes, Merscheid "Alles fur Deutschland" Valuation $700
Robert Hoppe, Höhscheid "Alles fur Deutschland" Valuation $700
Jäger u. Co., Silberwarenfabrik, D. Kaiserswerth "Alles fur Deutschland" Valuation $700
Johnswerk, Bayreuth "Alles fur Deutschland" Valuation $700
R.K. "All